Robert Frank and Rebecca Linda Smith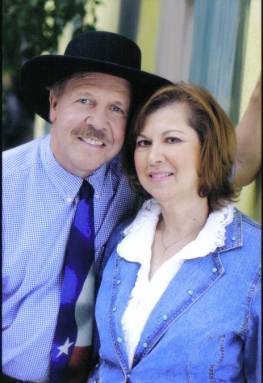 RENEWED RECORDS
VISION AND MISSION STATEMENTS
AUGUST, 2008
VISION STATEMENT: Our vision at Renewed Records is to bless lives by singing and writing Gospel, Inspirational, and Country songs and to move beyond the church walls with songs to reach the lost and hurting around the world who may not listen to Gospel music. Our vision includes reaching out to the military community and our nation with Patriotic and Inspirational songs to instill pride and patriotism and renew commitment to our country, values, and American way of life.
MISSION STATEMENT: Our mission at Renewed Records is "to bless hearts and renew lives" by reaching out to the lost and hurting of the world who might not listen to Christian music. We aim to accomplish this mission with a multitude of faith-based songs crossing genres that God has been giving us and continues to do so. Our motto at Renewed Records is "to bless hearts, renew lives, and win souls for the Lord."
BIO FOR REBECCA LINDA SMITH
Inspiational Country Singer and Songwriter
Rebecca Linda (Garcia) Smith is a three time Nominee for Female Vocalist of the Year for Inspirational Country Music (ICM) Awards in Nashville . She is married to Dr. Robert Frank Smith who is a three time Nominee for Songwriter of the Year with ICM Awards. Both are members of the Christian Country Music Association, the Western Music Association, and Life Members of the Vietnam Veterans of America Lucio G. Moreno Chapter 574 in El Paso , Texas .
Rebecca Linda was born into a Christian military family and spent most of her young life between the United States and Germany . She became a public school teacher for a few years prior to a direct commission as an officer in the U.S. Army where she served three years on active duty and then another three years in the Army Reserves after returning to teaching. She obtained a Master's degree in counseling and taught and worked with students and families during her teaching career. Music has always played a special role in her life and she became a professional singer in 2004 after retiring from teaching. She was a Nominee for New Artist of the Year with ICM Awards in 2006.
Her husband and manager, Robert Frank, is a retired military psychologist who now works as a School Psychologist with Special Education in El Paso . Rebecca Linda and Robert Frank own Renewed Records and RLS Renewed Publishing Company affiliated with BMI. They now have almost 80 published songs with BMI and many in the works. Renewed Records was created because of the new direction they both felt that God was leading them. With a multitude of faith-based songs, they wanted to reach out to the masses and not just "sing to the choir." Their label gives them the freedom to have songs that appeal to Inspirational and Country audiences as well as Christian Country, Southern Gospel, Country Western, and Contemporary Christian listeners. They both feel God has given them a mission to reach out to the lost across the globe who might not listen to Christian radio in order to bless hearts, renew lives, and win souls for the Lord.
Completed albums include ALL FOR YOU, a more Adult Contemporay Christian CD recorded in El Paso with songs from famous Christian artists like Ray Boltz and Michael W. Smith. Rebecca Linda's second project and first Nashville recorded CD is JESUS' GRACE, a Country Gospel CD with two charted # 1 songs and several in the Top 10, most of which they penned. Her third project, TIMELESS, is a special limited-edition souvenir promotional CD that has songs from five or her albums (three out and two still to come) including two duets with the Queen of Gospel Music, the late Dottie Rambo, and a Country ballad duet with Grammy-award winning Country artist, Marty Raybon. That album was nominated for a Dove Award in 2008. Her fourth project, AMERICAN HEROES, is a special Patriotic and Inspirational Country album featuring the passionate hit single, "We Will Remember," penned by Robert Frank on the fifth anniversary of 9/11, that tragic yet triumphant day in our nation's history. That single release and the entire Patriotic album has now been made part of the Flight 93 National Memorial in Somerset , PA. Because of that song, Robert Frank was asked to write a memorial song for the Vietnam Veterans of America and their first ever National Memorial at Angel Fire, N.M. That song, "Forgotten Heroes," on a single-song CD, is now part of that Memorial. Rebecca Linda's current album is TRUE LOVE, a true Country album with 15 faith-based songs. Her first release, "Wolves," penned by Robert Frank, was recognized with a plaque as the "Most Played Country Selection in 2009" on the late Rev. Wayne Graham's One On One Syndicated Radio Ministries and Gospel Classics. The TRUE LOVE album was selected as "Album of the Month" in Feb, 2010 Power Source Magazine and has been nominated for 2010 Album of the Year for Western Heritage Awards with the National Cowboy and Western Heritage Museum in Oklahoma City (for Awards Ceremony in April, 2011). Another recent single song CD written by Rebecca Linda and Robert Frank is "Lady Warrior." This Patriotic tribute song is to honor all U.S. military women past, present, and future who serve our nation.
Rebecca Linda and Robert Frank are currently working on a Christmas project as well as their next Inspirational Country album, HOPE, due out in 2011.
Rebecca Linda has two # 1 songs and four Top 10 songs altogether from the Jesus' Grace album and another music video to her credit, "That Living Water," from her Hope project to be released in 2010. She is currently working on songs to complete her True Love album for release in 2009 and songs for another Country project, Lonely Hearts, planned for 2011 with distribution by Renewed Records and affiliated groups. Rebecca Linda was a Top 5 Nominee for Female Vocalist of the Year, 2007 ICM (Inspirational Country Music) Awards. For more information, you can visit her artist website at www.renewedrecords.com. You can hear some completed work at www.showcaseyourmusic.com/rebeccalindasmith and www.myspace.com/rebeccalindasmith.