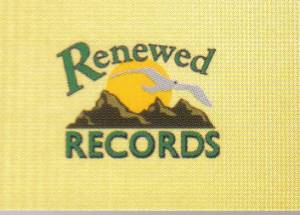 About us Articles Album Contact Discography Page Favorites Favorite Links Music Page News
Order Page Other Artists Photo Page Special Photos
---
Released in Spring 2008.
Dave Caley's Fantastic Gospel and Country CD Release on Renewed Records Label:
"Live This Life"
Dave Caley's "Live This Life" Lands No. 1 Spot On Power Source Christian Country Top 100
Nashville, TN - April 21, 2008 -
Country music artist Dave Caley scores a No. 1 single with his latest release, "Live This Life," from Renewed Records. Originally written and performed by John Rich and Big Kenny from the Country duo Big & Rich, "Live This Life" is Caley's second No.1.
Caley claimed the No. 1 spot in the April 2008 Power Source Christian Country Top 100 Chart. "After working so hard trying to get noticed, it's a wonderful and humbling feeling to know that people are appreciating your work," Caley expressed. Gene Higgins with HMG Nashville produced the album, "Live This Life." Caley said, "I give Gene and the HMG Nashville Radio and Promotions team a lot of credit. I could not have done it without them."
"Live This Life" also reached No.137 on the Music Row chart where it has been for 18 weeks and counting. Critics, fans and DJ's have raved about the performance of the heartfelt ballad. Renewed Records President, Robert Frank Smith and Vice President, Rebecca Linda Smith are very proud of their first signed artist. Both are well known in the music industry. Rebecca Linda is an aspiring Inspirational Country artist and Robert Frank is known for his prolific songwriting. Both were nominated for an ICM Award in 2007.
With Top Record Label A & R Executives from Major and Independent labels present, Caley performed to a standing room only crowd at the CRS (Country Radio Seminar) showcases at HMG Nashville.
Caley is touring across the country making stops in El Paso, Texas and other cities.
HMG Nashville
Megan Jakes
615-248-8105 Ext. 233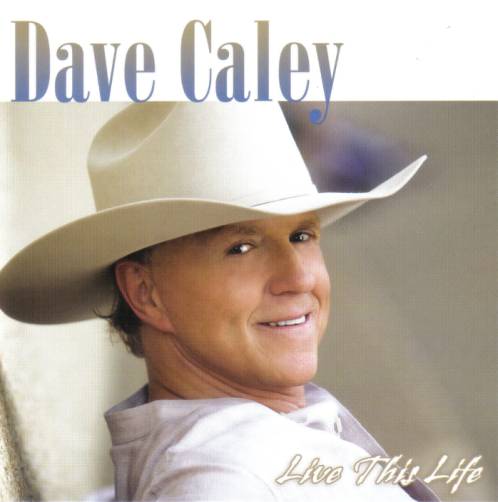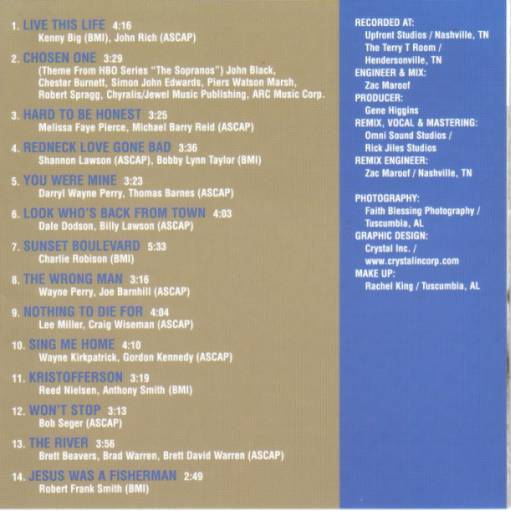 14 Fantastic Songs That Will Have You Searching The Back Road Memories Of Your Heart!
Dave Caley started his career as a musician performing in a Bluegrass band and has performed with many famous Country music stars including Vince Gill, Pam Tillis, Brad Paisley, Johnny Paycheck, and Tammy Wynette. He was inducted as a member of the Michigan Country Music Hall of Fame in 2005. Dave sings a variety of music styles including Traditional Country, New Country, Bluegrass, and Country Gospel. Ken Mann, Host of "Ken's Country Radio Show" says that "When you listen to the words of his songs and the sound of his voice, it is clear that Dave Caley is a true Country singer who wants to touch his audience and is not satisfied until he has given them his best."

LIVE THIS LIFE, Dave's tenth project is a fourteen song CD that he considers to be one of the most exciting musical journeys of his career. The CD begins with the title track and his first single release from the album. The song is both Country and Inspirational, as are several songs on the album, and crossed over from Country into Christian Country where it went to No. 1 and was also a chart topping Country Western song in Power Source Magazine. The song sets the theme of the album in how to "live this life." The second song, "Chosen One," really brings out Dave's talent and takes you on a roller coaster ride "Down, deep down, below the Mason-Dixon Line," with upbeat music and lyrics and fabulous lead vocals and backup singers. Dave slows things down a bit with "Look Who's Back From Town," a Country ballad, and "Won't Stop," a Bob Seger song with a Country Blues sound. The album is filled with upbeat songs that are true toe-tapping and fun to listen to like "Redneck Love Gone Bad" and "Sing Me Home." In contrast, the album has some very passionate and thought-provoking songs, like "Hard To Be Honest," "Sunset Boulevard," "Nothing To Die For," and "The River." Love songs abound like "You Were Mine", "The Wrong Man," and "Kristofferson." The album ends with "Jesus Was A Fisherman," a peppy Christian Country song written by Robert Frank Smith, President of Renewed Records, Dave's new label. Dave extends his heart-felt thanks to Rebecca Linda Smith, Dave's label-mate at Renewed Records, and to Gene Higgins, President and Founder of HMG Nashville, for producing such an outstanding action-packed album with a tremendous lineup of hit songs with well-known Country Music writers.

Fan letters:
Hi Dave, just wanted you to know how much we enjoy hearing you sing on Wayne Graham radio program out here in Arnold PA. We found you on their web site and wanted to know how to get a copy of your Live this Life song, we love all your songs they play.
Best Wishes, Bob & Nancy Wilson

Dave is a guest artist on "American Heroes" CD Project available now.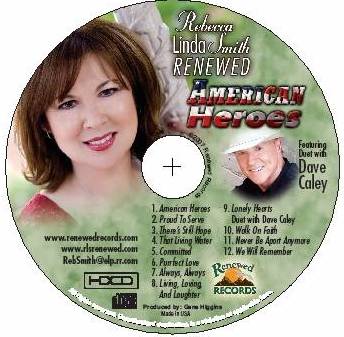 Dave Caley

Born: Blackpool, England

Hometown: Kalamazoo, Michigan

Resides: Kokomo, Indiana

Dave started his career as a musician performing in a Bluegrass band. Over the years, Dave's career has grown not only in the United States, but in Europe as well. His musical talent shines through in his unique voice and his extraordinary fiddle playing. Dave has performed with many famous country music stars, including Vince Gill, Pam Tillis, Brad Paisley, Johnny Paycheck and Tammy Wynette. Along with 5 CDs that he has recorded, Dave has filmed six music videos, and he was the first artist ever to film a video backstage at the Grand Ole Opry. The Dave Caley Band has performed with many Opry members. Dave has also headlined shows with the classic rock bands Rare Earth and The Classics Four. Vice President Dan Quayle also had the privilege of seeing Dave perform.

In "2005" I was inducted into the Michigan Country Music Hall Of Fame.
Dave more recently recorded television shows for the Pax Television Network in Nashville. The music video for his hit single "God's Grand Ole Opry" is now available. It was filmed in Nashville at various country music venues, and it has the flair of days gone by, with stills of departed Grand Ole Opry legends.

Bookings and Contact Info:
D.R. Caley

Kokomo, IN 46901

(765) 438-5445
E-mail: davidrcaley@aol.com
or visit Dave's Website
Renewed Records
Phone: 915-833-3505
E-Mail: RebSmith@elp.rr.com

Website: www.renewedrecords.com

Website:
Please go to CD Chorale on the www.BackfortyBunkhouse.com website where you can find Dave Caley by last name in alphabetical order and order your CD now.
You can also order any CD from our "Order" Page here!